ValuedOpinions is found in 1999 and it is one of the most genuine survey panels that rewards its members with gift cards and cash for participating in online surveys. Currently, they pay for over 5 million members worldwide. Also in Valued Opinions, you will have less chance of being screened out. Complete the surveys with a higher success rate to earn more. Read the ValuedOpinion review to make the most out of it.
Currently, valued opinions have designed their site in such a way that you can participate in surveys from any device including mobile phones and tablets. Take the ValuedOpinions surveys whenever and wherever you want using their flexible options.
About ValuedOpinions:
Valued Opinions is one of the top survey sites in the world with millions of users making use of it to earn money by sharing opinions.
While most of the survey panels fail to send survey invitations regularly, it's Valued Opinions known for sending surveys regularly.
Valued Opinion is a legitimate site to take surveys with a few ups and downs that are discussed below.
Valued Opinions Registration:
Click this link to join Valued Opinions. 

Enter your full name, gender, DOB, Zip code, and e-mail ID.

Fill in the password of your desire, accept their terms and conditions and click the next step.
In the next step, you will be asked to enter your personal information like address and country. Enter your correct address as a gift voucher will be sent to the address you mention. Now the gift vouchers are directly sent to the registered email address.
Follow the procedure to complete registration.
Once the onboard registration process is complete, ValuedOpinions will send a verification email which you must complete by clicking the verification link to complete the sign-up process.
Valued Opinions Review:
Features of ValuedOpinions Surveys:
ValuedOpinions is not as unique as the Pinecone Research, however, it is known for certain things that are discussed in detail below.
ValuedOpinions and Survey Rate:
The survey rates of ValuedOpinions are one of the notable pros of the company.
I've been part of ValuedOpinions for years where I get impressed seeing their survey rates each time as it remains almost fixed compared to most of the survey sites.
While it's not as high as the YouGov surveys which are well known to pay a lot for completing and are shorter, easier, and interesting. The survey rates of ValuedOpinions will be pretty decent than other survey panels.
Most of their surveys pay a minimum of $1 and can increase up to $5 for premium studies.
So, the survey rate of Valued Opinions is one of the significant ones to consider to be part of that paid survey portfolio.
Wide Range of Surveys by ValuedOpinions:
Apart from the high survey rate, valued Opinion is known to conduct surveys in a wide range of categories.
Some of the categories include Food, Information Technology, Business, Travel, Bikes, Automobile, Entertainment, Cars, Leisure, Utilities, Finance & Investments, Cashback, computers, smartphones, etc.
The wide range of categories ensures that the panelists get enough opportunities to participate in surveys that are relevant to their interests.
They expand as time passes, so you must stay updated with their progress by completing the profile surveys whenever it's possible.
Big Boring ValuedOpinion Surveys:
While I praise ValuedOpinion's high-paying surveys in a wide range of categories, I don't like something about their surveys.
That's nothing but the Valued Opinion surveys are boring and big.
Usually, the survey's ETA ranges from 10 minutes to 30 minutes on average. But, in the case of the ValuedOpinion surveys, it rages from 15 minutes to 45 minutes on average. So, survey takers will feel tired while taking their surveys.
Even if the timing is more, they pay more as per the timing. Get paid big for the more time spent on completing the survey.
How to Participate in ValuedOpinions Surveys:
Once the registration process is complete log into your account and click take a survey. You can find some surveys in the account Dashboard as shown below or you can wait for Valued Opinions to send survey invitations to your email. 
This particular survey pays about $2.50 if it's completed. Remember that ValuedOpinions pay up to $5 per survey.
ValuedOpinion also sends the survey invitation through e-mail as shown below. You can directly participate in the survey without logging in.
To participate just click start survey. The survey engine will load and the survey question will appear as shown below.
This survey is about electronics. Just answer the question by selecting or sliding or typing as they require.
There will be several questions, answer all the questions. Surveys with more number of questions will pay you more. So, do the survey patiently by reading the questions carefully, answering the surveys that should bring value to the companies which conduct surveys.
After completing the full survey you will be asked to give feedback.
Express your opinion about the survey you've participated in and then click submit. Your account will be credited once you complete these procedures.
Do not close the survey before giving feedback or without clicking submit. You will not be paid if you do like that.
Valued Opinions Rewards:
ValuedOpinions do not pay you cash rewards instead they provide an option to redeem your earnings for gift vouchers.
The voucher may vary according to the country you reside in.
For example, you can redeem your rewards to the amazon.com gift voucher and Flipkart gift card, Airline Mile, and Prepaid card.
Once you accumulate the minimum cash amount you can checkout as shown below. Just select the reward options and select the reward value to checkout.
Click complete order to receive your e-gift voucher. The Gift voucher will be sent to the registered email address within a few days from the time of redemption.
Check the paid survey site that has the option to withdraw earnings via PayPal, Payoneer, Skrill, etc. – Ysense Surveys.
Join Valued Opinions: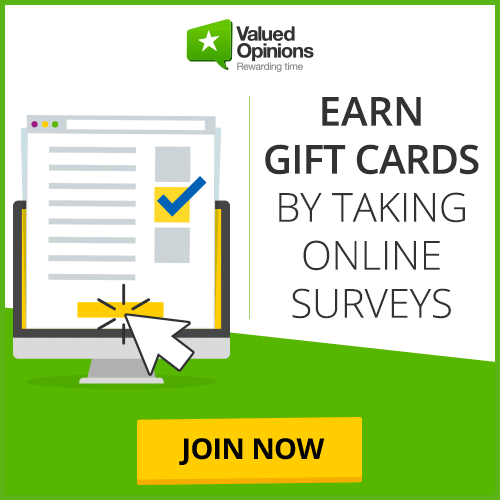 Click here to start registration – Valued Opinions.