Inbox dollars is one of the most genuine Get paid to read sites with features to earn money by reading e-mails, playing online games, completing mini-tasks, participating in online surveys, and watching paid videos. Specially made for the residents of the USA, InboxDollars does have the option to save money by using their coupon codes and offers of their shopping partners.
InboxDollars is a trusted site that started in 2000. They are known to pay their members on time to date. Start your journey on InboxDollars, and get $5 as a signup bonus.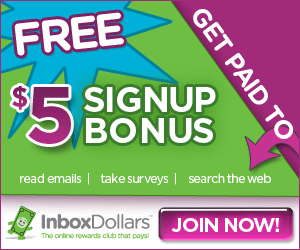 Note: If you aren't from the USA do not join Inbox dollars. Because members from other countries won't get any paid emails and have less chance to complete offers. Check out for more email reading job sites.
If you're from the UK join – InboxPounds.
InboxDollars Registration Procedure:
To join, click here.
Enter your name, postal code, country of residence, and valid e-mail address.
Choose your desired password that is required for future log-in.
Click sign me up to proceed. Inbox Dollars will send a verification e-mail as shown below.
Click activate to complete registration and receive $5 as a signup bonus.
How to Earn Money on Inbox Dollars:
1. Get Paid to Read Paid Emails:
E-mail reading is the primary earning method in Inbox dollars. They will send the paid emails to your primary e-mail inbox.
You have to read it and click the confirmation link to get paid. You will not be paid if you open the e-mail alone, you have to confirm by clicking the link indicated.
You can also check for paid e-mail in the Inbox Dollars inbox.
The paid email usually contains some information to earn money on Inbox Dollars or contains some promotions from advertisers. So, the main intent of sending emails is to make the members convert the offers.
So, after reading the email feel free to interact with the link(s) given to get paid for reading the email.
Inbox Dollars pay five US cents for reading an email. Paid emails are limited to three or fewer per day. This means one cannot earn money and get paid just by reading paid emails as it would take months to reach the minimum payout threshold.
In addition to paid emails, try to complete surveys, offers, and tasks to make the most out of Inbox Dollars.
Related article – Makeculous review.
2. Get Paid to Search the Web on InboxDollars:
The simplest way to earn online is by searching. Inbox dollars pay $0.15 per day for searching the web.
Apart from that inbox dollars pay a $0.05 bonus for searching at least one time for four days.
So, you can earn $1.05 + $0.05 = $1.10 per week for searching the web. This will take no more than 2 minutes per day.
The above screenshot shows the search earnings for 4 days.
Again getting paid to search functions of InboxDollars can add up a few cents to the account balance, however, it's not the only way you shouldn't depend to earn money.
3. Earn by taking InboxDollars Surveys:
You can earn up to $5 by completing paid surveys. Paid surveys are the potential part of any GPT program to make money. Only by completing paid surveys, you can earn money at the rate of speed that the account balance can reach the minimum threshold to get paid within a week.
So, make use of the paid survey section to make the most out of InboxDollars instead of depending on the Paid emails, searches, etc.
Update your profile once the registration process is over to receive survey invitations related to your interests.
Online surveys will be simple as shown above. Make sure you check most fields that apply to receive more survey invitations. If you select only fewer fields you may not get enough opportunity to participate in a survey.
Related article – Learn more about online surveys.
4. Earn by Playing Games via InboxDollars:
Play online games to earn cash rewards on InboxDollars. Click play cash games to start. The online games are powered by GSN games. They will send a verification mail to your primary e-mail inbox. You just have to click the verification link to activate the GSN account.
Once your account is activated, choose a password for GSN. You can use the same password or you can set a new one.
Log into your account. You will see hundreds of online games including Solitaire, Hearts, and adventure games. Just click the game follow the procedure and get paid.
5. Earn by completing Micro Tasks:
Inbox dollars pay for completing micro tasks powered by Figure-Eight. To start earning through micro-tasks you should click start now and login using your e-mail ID for the first time.
Once you complete these procedures you will get the available jobs as shown below.
You can earn up to $1 per offer depending on your level and availability. If you reach level 3 you will get more chances to complete tasks.
The potential tab shows the tasks you can perform or are capable of and the available tab shows the tasks that currently can be done to earn money.
For example, You will be asked to find the author's name in an article paying you $0.01.
Level up to 3 to unlock high-paying micro jobs and tasks that make sense rather than doing the tasks that are related to checking articles, spotting authors, etc.
You might also like – Online data entry jobs.
6. InboxDollars Referral Program:
Refer your friends or anyone to Inbox Dollars and get a 10% commission from their earnings.
Inbox dollars provide lots of tools to refer new users. Use them to refer more people and earn without working.
Get $10 as the referral commission from $100 of your referral earnings.
InboxDollars Payments:
Inbox dollars process your payments only through check and you need at least $30 to withdraw your earnings.
To ensure the paycheck is delivered to you, make sure to fill in your postal address correctly during registration.
Minimum cash out – 30 USD.
InboxDollars Review:
To end, Inbox Dollars is a legitimate and one of the long-running paid-to-read sites in the world. They have expanded their company with various features to earn money and save money.
Previously, Inbox Dollars has joined the family of Prodege LLC which is the home to established sites like Swagbucks, Ysense, and MyPoints.
So, relax you're in safer hands.
Inbox Dollars Registration:
Join now – Inboxdollars.
Join now – InboxPounds.